Home » Cigars » Nub Cameroon, Habano, Maduro & Nuance Cigars by Oliva

NUB CAMEROON, HABANO, MADURO & NUANCE CIGARS BY OLIVA - BOXES AND SINGLES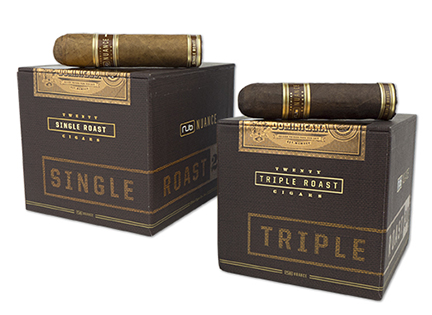 The idea for the Nubs came from the theory that a cigar finds its "sweet spot" at the 3 ½- 4 inch point. All "nub" cigars must exist within this window. No "nub" is longer than 4 inches. Further adding to this complex theory, the ring gauges range from 56-66. The result is a range of smokes that have the same amount of tobacco as any Churchill or even Presidente. Unbelievably, they also smoke as long.
The Nub Cameroon Wrapper Cigar: Grown in Cameroon, Africa, this wrapper has a distinct flavor and character. The Cameroon wrapper is thin and toothy, yet it delivers rich notes of cedar and coffee. This Nub medium-bodied cigar is available in 358 and 464T formats.
The Nub Habano Wrapper Cigar: The Nub's Habano wrapper has always been the wrapper of choice for Cuban cigar makers. It delivers a robust, full-body flavor. It is the most complex of all wrappers. The Nub cigar's Habano wrapper is grown in Nicaragua as are all the long-fillers in this rich blend.
The Nub Maduro Wrapper Cigar: The Nub's Maduro cigar is the newest addition to the Nub family. Blended with a Nicaraguan long-filler, the Nub Maduro is rolled in a dark and oily Brazilian Maduro wrapper and is considered to be the fullest bodied in the Nub line. The Nub Maduro offers a creamy, robust, and naturally sweet smoke laced with flavors of dark chocolate, coffee, and notes of toffee on a long finish.
The Nub Nuance Single Roast & Triple Roast (formerly Cafe Cappuccino and Espresso) Cigars: The smooth and creamy Nub Nuance Single Roast cigars feature a Connecticut shade wrapper and offer a mild smoke with a touch of vanilla bean and light notes of cedar. Nub Nuance Triple Roast cigars are wrapped in a rich Sumatra leaf and share a dark cacao flavor and slightly sweet, toasty notes. Both are available in the 460 format and perfectly combine the enjoyment of smoking a premium cigar with coffee.
The Nub Cameroon 358
Size: 3 3/4" x 58

Packaging: Box of 24 Cigars
Availability: In Stock
Price: $148.80 USD


Packaging: Single Cigar
Availability: In Stock
Price: $7.75 USD


The Nub Cameroon 464T (Torpedo)
Size: 4" x 64


Packaging: Box of 24 Cigars
Availability: In Stock
Price: $172.80 USD

Packaging: Single Cigar
Availability: In Stock
Price: $9.00 USD


The Nub Habano 358
Size: 3 3/4" x 58


Packaging: Box of 24 Cigars
Availability: Notify Me!
Price: $172.80 USD


Packaging: Single Cigar
Availability: In Stock
Price: $9.00 USD


The Nub Habano 464T (Torpedo)
Size: 4" x 64


Packaging: Box of 24 Cigars
Availability: In Stock
Price: $193.95 USD

Packaging: Single Cigar
Availability: In Stock
Price: $10.10 USD


The Nub Maduro 460
Size: 4" x 60


Packaging: Box of 24 Cigars
Availability: In Stock
Price: $197.75 USD


Packaging: Single Cigar
Availability: In Stock
Price: $10.30 USD


The Nub Maduro 464T (Torpedo)
Size: 4" x 64


Packaging: Box of 24 Cigars
Availability: In Stock
Price: $214.10 USD


Packaging: Single Cigar
Availability: In Stock
Price: $11.15 USD


The Nub Nuance Single Roast (formerly Cafe Cappuccino 460)
Size: 4" x 60

Packaging: Box of 20 Cigars
Availability: Notify Me!
Price: $156.80 USD


Packaging: Single Cigar
Availability: In Stock
Price: $9.80 USD


The Nub Nuance Triple Roast (formerly Cafe Espresso 460)
Size: 4" x 60


Packaging: Box of 20 Cigars
Availability: Notify Me!
Price: $156.80 USD


Packaging: Single Cigar
Availability: Notify Me!
Price: $9.80 USD