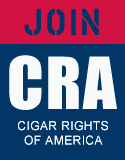 Home » About Us

About Milan Tobacconists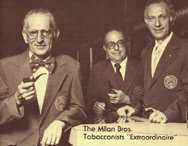 The Milan story began in February 1912, when J. H. Milan, Sr. opened a small shop on Jefferson Street in Roanoke, Virginia. Soon outgrowing the original shop, J. H. and his newly acquired partner, A.H. Milan, expanded into additional space at the same location.
Upon the death of A.H. Milan in 1938, J.H. Milan again became sole owner of the business, assisted now by his young sons who worked after school and on weekends. Three of the six Milan sons made their careers in this family business.
In 1956, after 44 years of continuous operation, the business moved into a new 2,400 square-foot building on Jefferson Street, where the shop remained for over 50 years.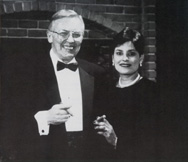 In 1994, there was a "changing of the guards." After decades of running the family business, the Milans were ready to retire. Concerned for their customers and the survival of their family's business, they were very selective as to who would buy the shop. Based on strict criteria, Don and Myriam Roy would meet the Milan's expectations and become the new owners of Milan Tobacconists. Don Roy, an executive in retail management for 30 years, six of which were spent owning and operating a tobacco shop in Coral Gables, Florida, applied his vast industry knowledge and retail management experience to Milan Tobacconists. By expanding the inventory selection and quality, as well as providing unsurpassed customer service, the Roys more than doubled the shop's revenues.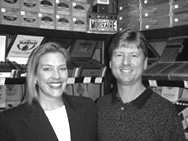 The new millennium brought yet another change. It was now time for the Roys to enjoy the retired life. But, they had the same concerns that the Milans did. They were looking for that perfect match - someone they felt confident would perpetuate the dedication to customer service, standards, and reputation for which Milan Tobacconists is well known. Who better than family? David and Renée Meyer, son-in-law and daughter of the Roys, were offered an opportunity to preserve this nine-decade legacy in February 2000. David had enjoyed smoking cigars for many years. His interest in and pleasure derived from smoking cigars made for a natural transition into the industry. Renée worked with the Roys at their Coral Gables shop for five years and was very comfortable and familiar with the environment. Without hesitation, David and Renée committed to the purchase of Milan Tobacconists.
With a good deal of experience under their belts and a thriving cigar and pipe shop, David and Renée decided to purchase the historic 309 South Jefferson Building in 2008, just blocks from the tobacco shop's previous location in Downtown Roanoke where the business leased space for over 50 years. The 309 South Jefferson Building purchase allowed for more flexibility and control over the direction of the tobacco shop, and the building was well-suited for the 96-year-old tobacco shop, an historical icon itself. Visit our The Big Move page to learn more about the relocation and view pictures of the new store.
The spacious new building also provided David and Renée with the perfect opportunity to create the cigar club they had envisioned for years. They immediately began to lay plans, and the doors of the Commonwealth Cigar Club were opened to new members a year later. Established exclusively for the enjoyment of cigar smokers, this private, members-only club is the first of its kind in Virginia. To learn more about the Commonwealth Cigar Club, please visit their website -> www.commonwealthcigarclub.com
Celebrating over 100 years in business, Milan Tobacconists operates as the most unique cigar and tobacco shop of its kind in Virginia, but caters to discerning smokers around the country with orders for custom blended pipe tobaccos, premium, super premium, and vintage cigars, smoking pipes, and accessories of every description. MilanTobacco.com is intended to provide our customers with a convenient, secure avenue to shop for their smoking enjoyment at any hour of the day. And, because we haven't yet had the pleasure of serving so many of our customers in person, we thought you might enjoy taking a Google 360° virtual tour of Milan Tobacconists' brick and mortar shop.
We hope you take as much pleasure from our selection of fine tobacco products and accessories as we do providing them to you!