Home » News & Events


An Interview with Erik Nording, Famous Danish Pipe Carver and Namesake of Rocky Patel's Nording Cigars
Posted March 10, 2010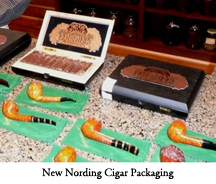 I understand that you and Rocky Patel are very good friends and you talked him into naming a new blend of cigars "Nording" after a round of golf and a couple of cocktails. Is that a true story?
Yes, it's true! I got him very drunk, and made him agree to name a blend for me (laughter). We selected a blend of Nicaraguan Colorado wrapper, Nicaraguan binder, and Nicaraguan/Honduran filler. Nording is a very flavorful, medium-bodied cigar.
Are you a regular cigar smoker?
Yes, I smoke cigars almost as much as I smoke pipes!
Tell us a little bit about the materials you use to make your pipes?
Most of my briar is from Greece, but I also get some from Italy and Corsica. All of the briar I use is very good quality.
How do you grade your pipes?
Only my hand carved pipes are graded, and the grading is based on the price, which is based on the amount of time I spend on the pipe and the materials used. If I use the best briar and make the stem by hand, the pipe costs more. Simple. We try to keep the prices reasonable, so if I find a flaw in a hand carved pipe's briar that will take too long to "fix," then we will turn it into a rusticated pipe like a Group 4 freehand. All of my pipes smoke equally well, whether you spend $50 or $700.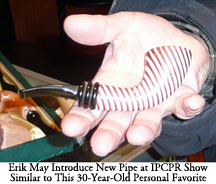 Do you have any new pipe designs coming out?
Yes, we always have something new in the works. Right now we have a new smooth churchwarden (coming soon to Milan Tobacconists, along with a couple of other new pipe groups). I also may remake this pipe (striped horn shown on left) that I first made 30 years ago…if I can only remember how I did it (laughter)! So many people have asked me to make it, so I may introduce it at the next show in a few months.
What are your favorite pipes to smoke?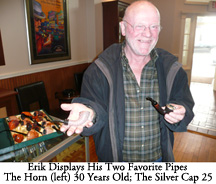 I have 10 pipes in my rotation, but these two travel with me. I made this one (striped horn) 30 years ago and the silver cap (shown on right) about 25 years ago.
In your opinion, which one of your pipes is best for the heavy English blends, like G.L. Pease Odyssey.
The pipes with the smaller bowl like the Signature Straight Small (Milan will have it in stock soon) are best for the stronger blends. A freehand bowl size is best for the milder blends and aromatics. I usually smoke a large bowl of a mild blend in the morning, then move on to stronger blends in smaller bowls throughout the day.
Do you have any new pipe tobacco blends?
We have two new blends (see prototypes in tins marked "Virginia & Perique" and a mild "Aromatic"), but I don't remember the names right now. I personally smoke the Virginia + Perique. I don't formulate the blends - I leave that to the experts. I just pick the ones I like, give them names, then put my name on them.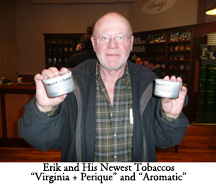 What pipe tobacco blends are your favorites?
I like stronger Virginias, like Escudo.
Have you seen pipe sales increase over the past couple of years in the US?
Yes, I feel it is coming. Younger college students are enjoying pipes now. I would be one of the last to notice though because people spend less money on pipes initially. But, yes, I see an increase.
Do you have a similar following in Denmark?
No. My following is much larger here. I like to come here and this is one of the only countries I sell in. I used to sell many, many pipes in Germany, but I did not want to continue with my distributor there, so I stopped.
How many pipes do you produce in a year now?
About 20,000. Thirty years ago, I was making 150,000, but I will never produce that many again. It was too much!
Does your wife let you smoke in the house?
Yes, of course! Doesn't everyone's (laughter)?
Do you plan to retire any time soon?
No. Never! I do all the things I love to do now. I work too much when I'm home, so when I'm in the states, I play. I take time to hunt, golf, and fish.
In 1975 I went fishing in Ft. Myers, FL, and caught a monster of a shark in the harbor. The captain of the boat called into the harbor master and told them what I had caught. There were thousands of people waiting when we came in. I was so exhausted from wrestling the shark that I couldn't remember my name when they stuck the microphones in front of me. That shark could swallow a man whole - Jaw's brother.
Have you smoked your famous giant pipe of pipes?
Yes, I have. I made it smokable with one pipe in the center of the big pipe and a tube running through the giant stem to a place where you can insert a regular stem to smoke it. It is made of 1,000 pipes that I made and 1,000 stems, and it's in the Guinness World Book of Records. Many celebrities and politicians smoked it when it was on display in the Copenhagen Airport. Now it is in the US, and it goes to trade shows and conventions with me.
Where to next and how often do you tour the U.S.?
I go to Puerto Rico from here for the TAA convention, then to Miami for my flight home to Denmark. I visit the US about 5 or 6 times a year. The next visit will be to the IPCPR show in August.
Bon voyage, Erik, and thank you for spending the afternoon with us at Milan Tobacconists!