Home » Milan Tobacconists' Response to the COVID-19 Pandemic

*Forward Virginia Guidelines (03/21/2021)*
*Virginia Executive Order No. 72 (Amended 02/24/2021)*
*Virginia Executive Order No. 67 (Amended 11/13/20)*
*Virginia Executive Order No. 63 (Amended 11/13/20)*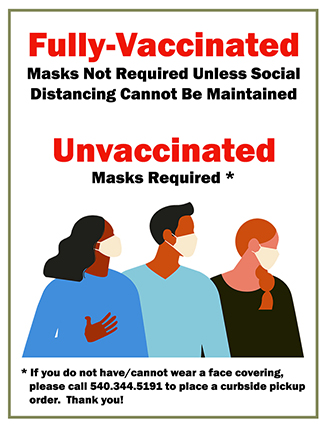 Come in ~ we're open!
The well-being of our patrons and staff, cleanliness of our family-owned/operated store, and freshness of our products have always been and will continue to be of the highest priorities. We are keenly aware of the ongoing concerns surrounding the spread of coronavirus (COVID-19) and want to assure you that guidelines provided by the Centers for Disease Control and Prevention (CDC), World Health Organization (WHO), and Virginia Department of Health (VDH) are being followed at Milan Tobacconists.
The steps taken to help protect your health when visiting our store include the following:
Disinfectant cleanings are conducted throughout the day with special focus on high-touch and highly trafficked surfaces like door handles, checkout counters, bathroom surfaces, product displays, telephones, public lighters, cutters, etc.
A deep sanitizing and disinfecting cleaning is performed before the store reopens each day.
Hand sanitizer is readily available for use by our patrons and team members.
Team members have been fully vaccinated, wear masks continuously in the store, undergo daily health screenings, practice safe hand hygiene and social distancing, and are always encouraged to stay home if unwell.
The maximum number of patrons permitted in the store at any given time is limited to 10 in order to maintain the Commonwealth of Virginia's current capacity and social distancing guidelines. Curbside pickup will be offered to those who arrive at the store after capacity is reached and do not wish to wait for the next available spot.
Face coverings must be donned before patrons are permitted to enter the store regardless of COVID-19 vaccination status. On July 14, 2020, Virginia's governor ordered businesses to enforce the face covering mandate or risk closure. Simultaneously enforcing the social distancing requirements and wearing of face coverings by our patrons upon entering, while shopping, and upon exiting the store is challenging for our team, so our patrons' cooperation in support of these efforts to keep everyone safe is greatly appreciated.
Patrons may enjoy their in-store cigar or pipe tobacco purchase on the premises only after finding a seat, at which time they may remove their mask (as with masked restaurant patrons when their food arrives) and maintain social distance from the adjacent cigar/pipe smoker in accordance with Virginia's mandate.
Of course, this secure website is always available and free Curbside Pickup has been added to the selection of shipping options at checkout for our local patrons. Curbside Pickup is also available by calling our local phone number 540.344.5191 to place your order for pickup during regular business hours.
We hope you are assured that Milan Tobacconists is a clean, safe, and spacious haven in which to relax and enjoy your purchases, but we're more than happy to answer any questions or concerns you may have via email to customercare@milantobacco.com or by calling us toll free at 877.70MILAN (64526) during our regular business hours shown below:
OUR STORE HOURS:
Monday through Friday - 10:00 a.m. to 6:00 p.m. Eastern Time
Saturday - 10:00 a.m. to 2:00 p.m. Eastern Time
Our thoughts are with all of our patrons, near and far, as COVID-19 continues to disrupt lives. Please take care!
Warmest regards,
David and Renée Meyer
Owners